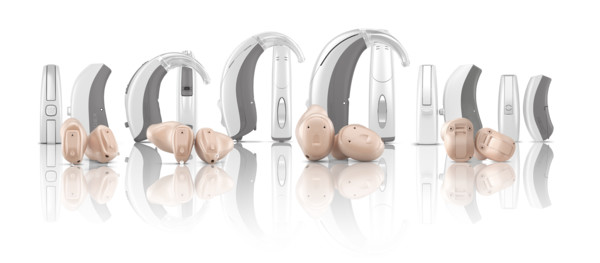 The future of hearing devices is here
Introducing WIDEX EVOKE
TM
. Not only does it allow you to hear better in the moment with truly lifelike sound, it learns how you prefer to hear and improves the more you use it.
How? Refine your hearing in real time by listening to two sound profiles with the WIDEX EVOKE
TM
app and choosing which you prefer: A or B. Each time you do it, WIDEX EVOKE
TM
learns more about how you want to hear at that moment. You can then save your preferences and use it the next time you are in the same environment.
When you personalise your listening experience for a particular environment or activity, WIDEX EVOKE
TM
remembers the setting and automatically applies it to similar situations in future.
WIDEX EVOKE
TM
learns more about how people prefer to hear in millions of new and different listening situations whenever a user personalises their sound. We can then use this anonymous data to create a better sound for everyone.
So the intelligent hearing device you choose today, will become even smarter tomorrow.
The WIDEX EVOKETM App also allows you to:
Mute or adjust hearing device volume and use the equalizer to adjust sounds
Create personal programs with your own names, photos and sound adjustments
Add locations to programs and locate your hearing devices if lost
The sounds around you are always changing. So WIDEX EVOKE
TM
automatically adapts to the environment – smoothly and in real time – to deliver real-life hearing.
We've packed WIDEX EVOKE
TM
with twice as much knowledge about different listening situations than our previous hearing devices.
It can tell the difference between classical and rock music, a party and a business meeting, the big game and the great outdoors. So if you don't want to interact with it, WIDEX EVOKE
TM
will automatically select the best settings for your environment as soon as you turn it on.
WIDEX EVOKE
TM
also provides the convenience of rechargeability, giving you the option to charge batteries at night instead of changing them every week. You can also stream phone calls and audio from your iPhone directly through WIDEX EVOKE
TM
(with Made for iPhone model).
The world's most intelligent hearing device is available at AudioLogic Hearing in a range of models to suit your needs, preferences and lifestyle.
Click here to make an appointment at AudioLogic Hearing or call 03 9754 4162.